We were able to book a room at Yosemite Lodge last minute and thus make a weekend getaway to Yosemite Valley.  This was my first time in the park in the fall.  Since last year was a relatively dry year (only about 50% of normal rain/snow), the major waterfalls were either completely dry or only a trickle instead of a thunder.   While still spectacular, I can't help but miss the thunder and site of Yosemite Falls.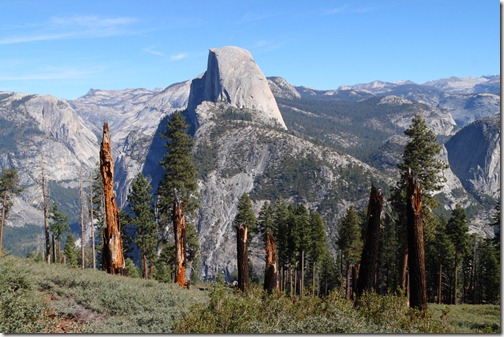 Unlike in the Spring and its fill of snow, higher elevation sections of the park were more accessible.  We took a one way bus ride up to Glacier Point, 3200 feet above the valley floor.  From here, there are wonderful views of Half Dome and the valley.   We then left the crowds and starting hiking down the Panorama Trail towards the valley floor.  The signed distance is 8.0 miles, but our total hiking for the day was closer to 9.5 miles, according to the GPS.  I was quite sore for a few days afterwards, but it was worth it.  The trail takes you by three waterfalls with almost continuous spectacular views.
To start our second day, we drove up to Tuolomne Meadows.  Along the way, we stopped at Olmstead Point for a different vantage point of Half Dome.  While it was around 70 degrees yesterday and today, on Friday there was rain, fog, and snow.  This had the added benefit of a light snow dusting of the upper elevations.  Tuolomne Meadows is above 8000 feet and the peaks visible from here are thousands of feet higher.  The views were even prettier thanks to the snow.  We hiked up Pothole Dome (much easier than Lembert Dome), and had wonderful views of the area.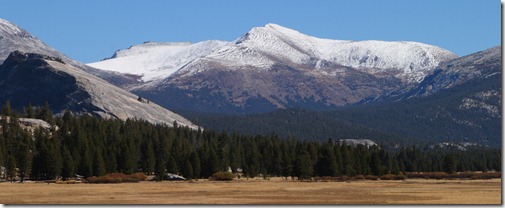 Before heading home, we stopped at a vista point along the road and made a quick stop to Saddlebag Lake.  That area is over 10,000 feet in elevation and there was still snow on the ground.
View all the photos here:
http://sanjoseabrams.com/photos/YosemiteOct2012/