Wed 29 Dec 2010
After yesterday's long day of activity on the volcano, we took it easy today.  We found a beach recommended in the guidebook for some morning lounge time.  We read and relaxed until it was lunchtime.  It was a perfect Hawaii morning.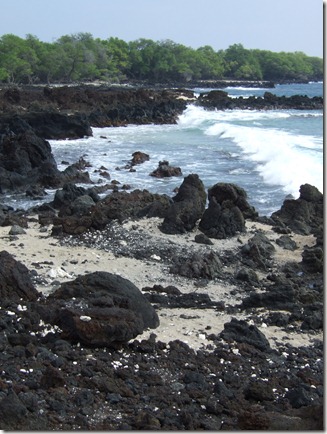 After lunch, we moved on to Ahihi Kinau Natural Area Reserve to the south.  It's mostly around old lava flows.  We do some walking on the easy trail and then take a short stop at the beach where I take a short snooze.  We then walk back to the start where there is some calm water for L' to snorkel.  She returns quickly because the water was cloudy.
On the way back we make dinner reservations at the place we ate nearly a week ago on our first night on Maui.  Cafe O'lei had very good food, reasonable prices, and a great Mai Tai and we looked forward to dining there again.  We have an early dinner and then walk back to the hotel to pack up.  Tomorrow our vacation ends and we return to the mainland after a great trip.
View all the trip photos here:
http://sanjoseabrams.com/photos/MauiDecember2010/