There are two ways to get to Santa Barbara from Monterey and we chose the scenic way.  It's not that much longer and would take us along the spectacular coast via Highway 1.  There are frequent vista points and we stopped at the highlights.  These included the Bixby Bridge (built during the Depression) and Pfeiffer Beach (home to the purple sand).  For lunch we went to a restaurant, Nepenthe, with ocean views and ate outside.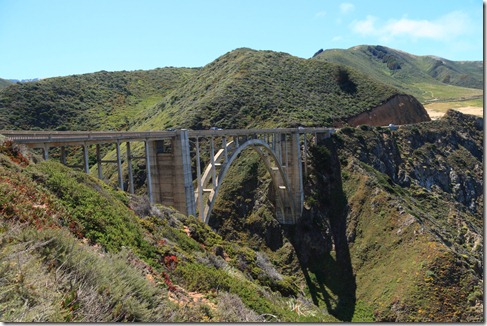 Further on down the road, we made an important stop at the excellent ice cream store of Doc Bernstein's.  After first stopping there last year, it's now a required snack break whenever we're in the area.   To break up the drive, we also stopped in Cambria and saw Nit Witt Ridge.  It's a house built entirely out of recycled materials.  It's not open for tours without advance notice so we just took a view of the outside.   We wouldn't go out of our way to see it again, but since we were in the neighborhood it was as good a place as any to stretch our legs.
We had thought about squeezing in some wine tasting, but it was too late for that so we just headed to Santa Barbara.  From our hotel we walked to dinner and enjoyed the warmer evening weather than we have at home.
View today's photos here:
http://sanjoseabrams.com/photos/SoCalJuly2012/Day%201%20-%20California%20Coast/index.html