Our pickup for our penguin tour arrived a little late and in a car (not a van as most tours) with just one other couple.  The first stop today was a beach town for dolphin watching.  We weren't interested in this so we just walked along Playa Union and into town while the other couple (nice Europeans who work for HP) went out on a boat.  The beach was fine and we treated ourselves to cold sodas and ice creams on the walk back.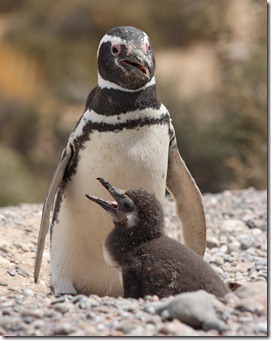 After another hour and a half drive, we arrived at Punta Tombo.  The nature preserve has a a beautiful new visitor center which would have been excellent if we could read Spanish.  We grab a quick lunch and then hop onto the tour bus to be taken to the lower part of the preserve where we will walk among the penguins.  There are a couple hundred thousand penguins here and it's one of the largest colonies of Magellanic penguins in the world (and I assume that Magellanic penguins are so named because they look like Ferdinand Magellan).  There are nests with juveniles, small groups, and lots of penguins down on the coast.  It's amazing to be this close to them.  I really should have worn a tuxedo to feel at home.
After we return to the car, the other couple wanted to go to Gaiman, the Welsh town near Trelew.  This was something that we had wanted to do as well.  There was a lot of overhead between buses to and from Trelew and back to Puerto Madryn, but we were able to tour Gaiman.  There's not a whole lot in the town, but we enjoy the full tea service at Te Gwyn.  We finally get back to Puerto Madryn late and soon it's New Years and we watch fireworks that are going off around the Puerto Madryn area.  Tomorrow we have an early flight to El Calafate in southern Patagonia.
View the photos from today:
http://www.sanjoseabrams.com/photos/ArgentinaDec2011/Day%208,%20Punta%20Tombo/index.html