We had an action packed weekend in the Sierra Nevada mountains.  After leaving mid afternoon of a holiday weekend, the traffic was expectedly terrible.  We stopped for dinner at Pinocchio's Italian Café in Sonora after several hours of driving.  The food was decent and it was inexpensive and quick, two nice qualities when you're heading out on a road trip.  From there it was clear sailing on our way to Bridgeport for our first night.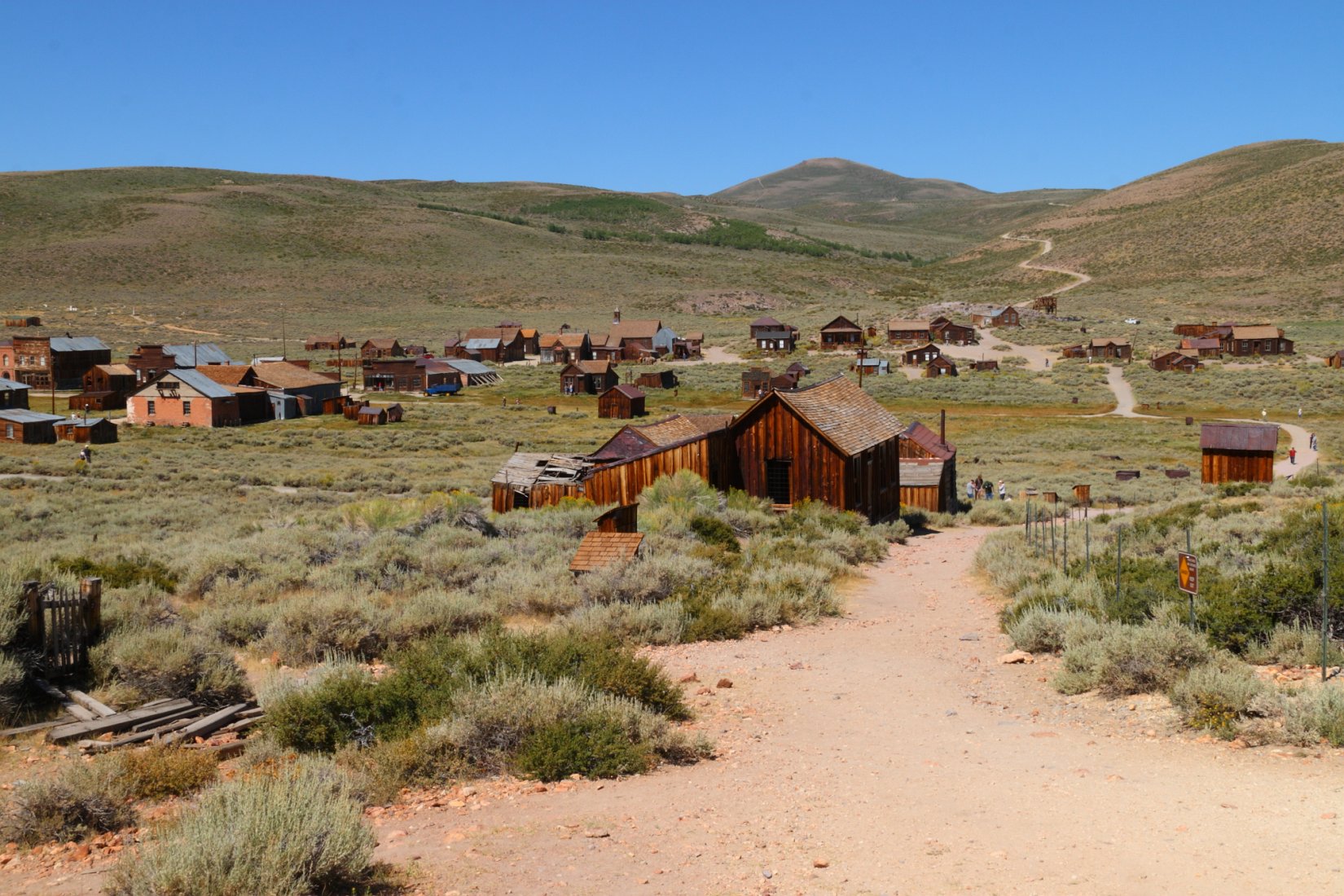 We began Saturday with a trip to Bodie State Historical Park.  The town of Bodie had a fast boom and bust in the 1870s when gold was discovered and now it is a ghost town.  At its peak, it had 10,000 residents in a sea of lawless craziness.   Unlike Columbia State Park that we visited last year, this place is kept in a state of "arrested decay".  Most of the town was destroyed by a 1930s fire, but much remains to be seen.
Following lunch, we did some hiking along the Virginia Lakes trail.  It's a pretty place and surprisingly cool when windy.  As we get tired and it gets late, we turn around and drive to our evening accommodations in Mammoth Lakes.  Unfortunately tonight's dinner choice was disappointing and we wouldn't recommend eating at Angel's Restaurant (despite their extensive beer selection – even Moosehead).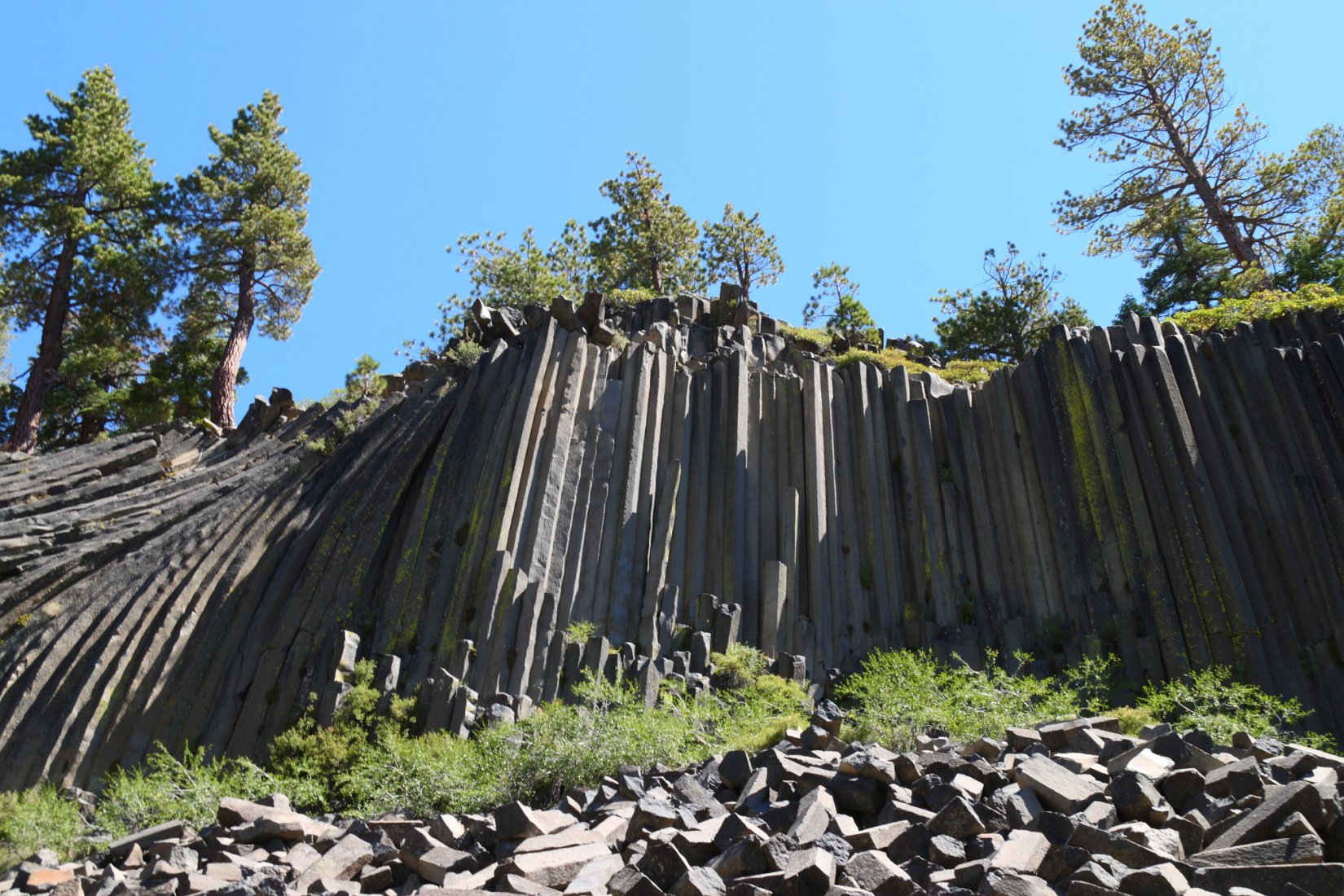 On Sunday, we went to Devils Postpile National Monument.  In the busy time (that is, now) they operate a shuttle bus that leaves from Mammoth Mountain to take you to the park.  This cuts down on cars driving in on the narrow road.  We get our shuttle bus tickets and are in the Monument by mid morning.   The namesake Postpile is a rare geologic formation of "columnar basalt".    The columns are over 60 feet high and are neat and unusual to see.  Before visiting the actual postpile, we take a hike to Minaret Falls which are pretty and we are the only ones there which makes it even better.  From Minaret Falls, we hike past the postpile and stop for lunch at the café which was fine, except for the very disappointing milkshake.  Once we are fed, we take the hike to the spectacular Rainbow Falls, a 101 foot waterfall.  It is so named because it is in the sun and there are frequent rainbows through all the mist.  Well worth the hike.
Hoping to redeem ourselves on the dinner front, we eat at Nevado's Restaurant which had good reviews on Yelp.  The chatty host/owner asked where we were from and then replied that the restaurant compares well even with the higher standards that we have from the Bay Area.  He was indeed correct and dinner was excellent.
After checking out of the hotel on Monday, we drove to a hot spring that L wanted to visit.  Since the water was too hot, we stopped at a more pleasant one nearby.   It's in a scenic spot and from there we visit the nearby Hot Creek Geological Site which is interesting.  It turns out that the entire area is really a caldera and that the cold river has places where hot geothermal steam comes up.  It is unsafe to swim in because you can be burned it is so hot. 
For our return home, we drove through Yosemite since Tuolumne Meadows is open this time of year.   We did a nice hike to the top of Lembert Dome.  We could really tell that after a couple of days at altitude we were finally adjusted.  The view from the top was beautiful and well worth it.  I even took a panaorma from the top which came out well.  From here it was back down, a quick ice cream stop, and the drive back home.
View all the photos here:
http://sanjoseabrams.com/photos/SierraNevadaSept2011/
Panorama from the top of Lembert Dome:
http://sanjoseabrams.com/photos/SierraNevadaSept2011/LembertPano2/sierra251_stitch.html