Unlike in past years, we decided on short notice to head to Yosemite.  With L' on Spring Break and a brief lull in my workload, we went away for a few days.  Leaving on Saturday, we made it to the southern side of Yosemite for a night in Oakhurst.  This gave us an extra full day in the park compared with our prior trips, since we normally arrive very late on a Friday evening.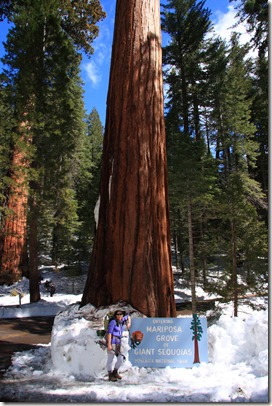 On our first day, we did a hike and a short snow shoe walk through the Mariposa Grove of Giant Sequoias.  The hike to the grove is two miles along a snow plowed road.  When we got close to the grove, we put on our snow shoes so we could walk up to the trees and further enjoy the scenery.
From here, we headed toward Yosemite Valley.  We made an unplanned stop by the side of the road for our first view of the valley and an unexpected bonus waterfall.  We took a short walk from the parking area to get a better view of the waterfall (which I think is the Cascade waterfall, but I'm not sure).  From here, we stopped at Tunnel View for one of the classic Yosemite Valley views that never gets old.  We then finished the drive to our lodging in time for dinner.
On our next full day, we learned that the road to the Badger Pass area had just closed for the season yesterday, so we had to adjust our plans.  We made a quick stop at the Ansel Adams Gallery and the Visitor Center to get some tips.   We hiked the Mist Trail to see Vernal Falls and that brought back memories of when we did a small portion of the trail on our way to Sierra Point.  Following lunch, we did the Mirror Lake trail, which is no longer a loop following a landslide a few years ago.  It's not really a lake, but really just a part of the Merced River.  Still, the view is stunning.  We hiked beyond the lake and saw a bonus, unnamed waterfall in the distance as well.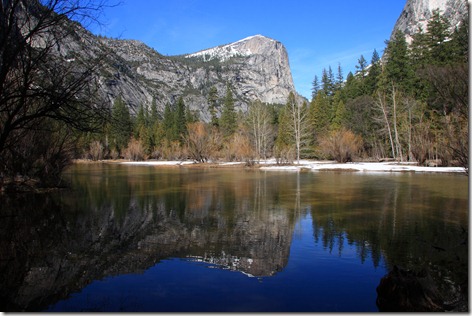 On our final day before heading home, we did a snow shoe walk to the Merced Grove.  Similar to the Mariposa Grove, there are some huge trees at the end.  Snow shoeing is a great workout and we have more than earned our pizza gorging that we'll have tonight when we return home.
View all the photos here:
http://sanjoseabrams.com/photos/YosemiteApril2011/