We spent a weekend in Gold Country which was a fun break between the long stretch of Labor Day to Thanksgiving.  We left on Friday night for Sonora.  In an attempt to avoid some traffic, we took a scenic drive through Niles Canyon in the East Bay and then stopped for dinner in Livermore.  We didn't really avoid much traffic, but at least the drive was prettier.  We arrived at our base of operation in Sonora at a reasonable hour to check in and unwind before going to sleep.
As loyal readers know, L' and I differ on our definition of camping.  We weren't in a Holiday Inn this time, but a Days Inn.  The hotel was recommended by normally chain hotel adverse Lonely Planet. The hotel is a historic Inn built in 1897.  I'm all for vintage, but a hotter shower and thicker towels would have been nicer.  The building was neat, especially the old time elevator.  That kind of made it worth it, but if we have another night in Sonora, I think we'll upgrade the accommodations a little.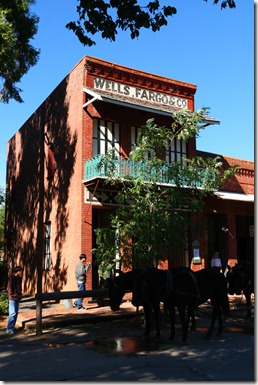 Saturday began with breakfast in the hotel and then a trip to nearby Columbia State  Historic Park.    It is a well preserved Gold Rush town that dates to the 1850s.  As the park's website indicates, it is still a real town.  We arrived in time to join a free guided tour by a docent dressed in period costume.  The guy was very informative and gave us a nice walk around the town.  The most interesting fact was his assertion of where the term "bull" and "bear" market comes from.  He was telling us that nearby to the main street was a small arena where the miners would entertain themselves with a bull bear fight.    A bear would fight a bull (and not, as I initially thought, a miner vs. a bear or bull).    In the battle, a bear tries to push the bull to the ground while the bull tries to lift up the bear with its horns.  This is allegedly the origin of a bear (down) and bull (up) market.  Articles on the web say the origin is not quite certain, but it was an entertaining story
We stopped for lunch in the main town and then headed a couple blocks away to the old schoolhouse and cemetery.  These were also neat to see and I thought it amusing that they had a dunce cap in the classroom.
Back on the main square, I insisted we stop for a milkshake since by now it was warm, but pleasant out.  We did some final wandering around before returning to Sonora in time for our favorite activities:  hiking (L') and napping (me).  We then went for dinner and a wander through Sonora before going back to sleep.
On Sunday we had a quick breakfast in the hotel after determining that even the bagel place in town is closed on Sunday mornings.  Checking out of the hotel, we then proceeded to Railtown 1897 State Historic Park in nearby Jamestown (not the one of high school history class).  The park contains a railroad roundhouse and has been in continuous operation since it opened.   It has been the sight of many movies and tv shows, most notably Back to the Future III. We took a guided tour of the locomotives which are restored and still operational along with a train ride on one of the historic trains. 
As it approached lunchtime, we departed the trains for the town of Jamestown which is another Gold Rush town with old buildings and fudge stores (two great things that go great together).  We had lunch and then browsed the few blocks that comprise the town before departing.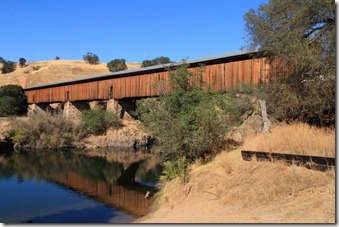 Breaking up the drive home, we stopped at Knights Ferry (no relation to Knight Rider) which is the site of a covered bridge.  It's not just any covered bridge though as it has been there in some form since 1864 and is the longest covered  one west of the Mississippi (330 feet long).  We wander around making the required photo stops before continuing on our drive back home.   While bummed we didn't discover our own mother lode, it was an enjoyable weekend away.
View all the photos here:
http://sanjoseabrams.com/photos/GoldCountryOct2010/