With our final hours at Crater Lake, we aim for an early start. One important activity  remaining to do is to take the boat tour around the lake. Tickets go on sale in the morning and we must be on the 10am departure otherwise we won't be back in time to make it to Ashland in time for our show. We have breakfast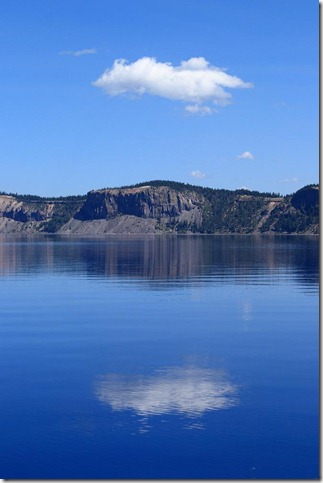 in the room and are at the boat dock by around 8:30. With only a few people ahead of us, we secure our place on the 10am slot.
To get to the boat, there is a hike down around 700 feet of elevation over 1.1 miles. Certainly easy on the way down, but we know it will be more work on the return. We get down to the boat dock with plenty of time to just relax before lining up to get on the boat (which seats around 40 people). These boats are the only allowed ones on the lake and this place is the only legal access to the lake.
The tour departs right on time and we take a leisurely two hour ride around the lake. The park ranger on board is very informative and we learn about many of the things we saw yesterday during our rim drive. The views are a bit different from the lake level than they are from the rim level. It's another perfect day on the lake and we enjoy our tour and take our sandwiches on board that we picked up last night. Right on time, the boat returns to the dock at noon and we're on the road before 1pm.
We use our GPS toy to navigate us to Ashland and much to L"s delight it takes us on the more scenic route. It turns out that it's nearly the same distance as the other route we considered. It was a scenic drive and we make it to Ashland by mid afternoon. I did ignore the GPS direction to go down a dirt road. It turned out this would have cut off some distance, but I prefer the highway. Next time when we are in L"s car, she can go that way.
Tonight is our first show at the Oregon Shakespeare Festival. We are seeing "Ruined", which won the Pulitzer prize. It's about the uplifting topic of prostitution and brutal gang rape in the Democratic Republic of the Congo. You know, a real comedy. It is an excellent show and not nearly as depressing as the topic might suggest. It's clear that the OSF gets top notch actors and the small theaters really let you appreciate the acting skills on display. By the time the play ended, it was time for some much needed sleep.
View all the trip photos here:
http://www.sanjoseabrams.com/photos/OregonAugust2010/