It had been awhile since we went away for the weekend and were getting a little antsy.  We squeezed in a night away last weekend to head a couple hours south.   On tap this time was a night in Salinas and a visit to Pinnacles National Monument.
We had last been to Pinnacles a couple years ago during a rare cool Memorial Day Weekend (staying in San Juan Bautista).  Pinnacles can be brutally hot in the summer, so springtime is usually the best time to go.  March and April is also wildflower/allergy season.  We were hoping for good weather and lots of flowers and we lucked out on both fronts.
There was little traffic heading down to Salinas on Friday night.  Salinas is not even a couple hours drive and with the carpool lane, it was an easy drive.  We checked in to our hotel and headed to "Old Town" Salinas where there were a few restaurants recommended by Lonely Planet.  Not having a local map, we just continued on the highway and immediately after getting on 101, saw a sign for Old Town at the next exit.  We easily found the area and also the Steinbeck Center that we'd stop at tomorrow.
Old Town was quaint.  Some of the buildings date back around a 100 years to when the Salinas Valley was first starting out.  When the Dust Bowl hit the Plains, people headed West in search of a better life (and better soil).  Salinas now calls itself the "Salad Bowl of the World" for all of the agriculture that is grown here.  It is a several billion dollar a year industry in the area.  I'm amazed that, as big as that is, it's roughly on par with the annual revenue of my company (which employs far fewer people).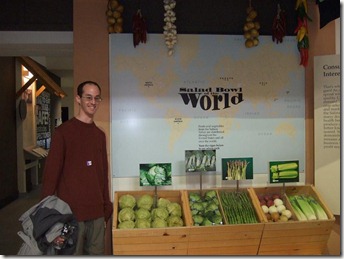 Saturday morning we enjoy the included breakfast in the hotel and then go to the National  Steinbeck Center.  John lived in Salinas, hence the museum.   The museum was mostly devoid of visitors.  The exhibits were well done.  It was like confronting all of those horrible high school English reading assignments in museum form.  JS was an interesting character- aside from writing, he travelled across the country, took a cruise of Baja California, and was even a war reporter during WWII. 
Heading out from the museum, we drove towards Pinnacles National Monument, stopping en route for a quick lunch.  The road into Pinnacles on the west side is a one lane road, which was interesting the few times another car would be coming.  It's really wide enough for both cars, but I generally prefer my own lane.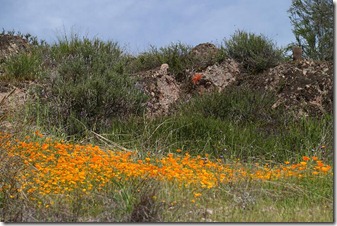 We both agreed that the west side of the park was prettier than the east side that we visited the last time.  The flowers were out in full force and the rock formations were easier to appreciate than the last time when it was raining.  I did my usual duty of slowing down the hiking pace by taking lots of photos.  The hike was up about 1200 feet of elevation in around 1.8miles and a total loop of around 4.5 miles– a nice workout.
We made it back to the car and hit the road back home.  As we did on previous road trips, we called in a pizza and picked it up on the way home.  Amazing how just 36 hours away from home really can feel like a vacation.
The full photos are here:
http://sanjoseabrams.com/photos/PinnaclesMar2010/