We decided to head out of town for a weekend in October. Not wanting to spend too much time getting to our destination and also wanting some decent weather, we decided to head down to the Monterey Peninsula. We were originally thinking of going to Mendocino, but rain was forecast there; we chose well since the weather in down south was spectacular.
Leaving after work on Friday, we encountered just a little traffic. Making a french fry snack stop about half way there, we arrived at the hotel an hour or so before sunset. Our accommodations were in Pacific Grove which is adjacent to the ocean and the hotel was just a few minute walk to the water. After checking in, we walked to the beach and did a nice loop along the coast. It's pretty at sunset and I scoped out some photo possibilities of the lighthouse in the event we'd be back there at dusk again (turns out, we weren't).
Eventually making it to the restaurant for a late dinner, we enjoyed Passion Fish in downtown Pacific Grove. The food was excellent, service a little slow, but overall a good restaurant. We're often disappointed that dining in our travels is not as good as what we get down the street from us, but that was not the case this time. We walked back to the hotel after dinner and slept well.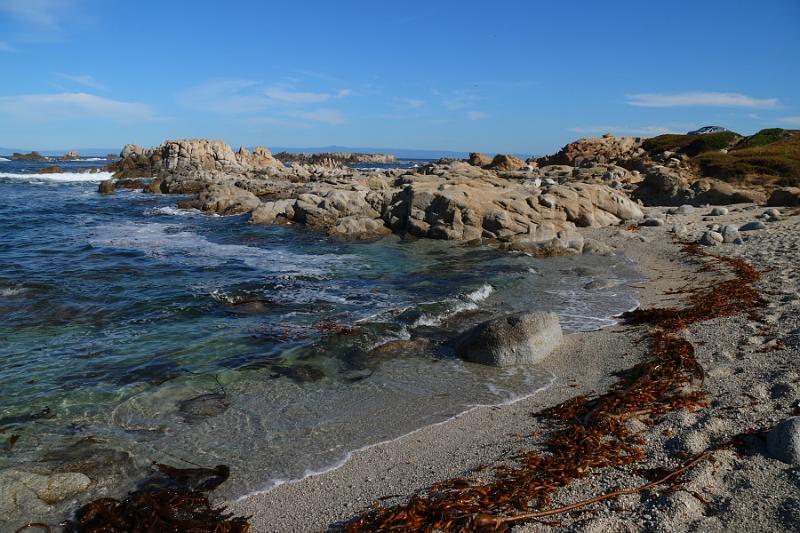 We started Saturday with breakfast (stale bagels) in the hotel. We then went back to the ocean near the hotel to take in the views. By mid-morning, I was already racking up the photos on the scenic coast. As I've said before, we are spoiled to have such beautiful scenery so close to home. After wandering the coast, we hit the 17-mile drive through Pebble Beach. It's about $10 for the drive. We made various stops along the way, taking in the sites – coast, golf course, sea lions, birds, the Lone Cypress, future residences (why not take both $24M houses- it's so hard to choose), and overall pretty scenery.
By early afternoon we were nearly done with the drive so we stopped at the Lodge for lunch. They have a nice restaurant overlooking the putting practice area and one of the tee off areas. Since the weather was spectacular (mid to upper 70s), we ate outside (added bonus- heckling golfers).   The food was very good and not too expensive considering the location. Most importantly, I saved room for a $7 chocolate milkshake. To partially quote Pulp Fiction, it was a good milkshake.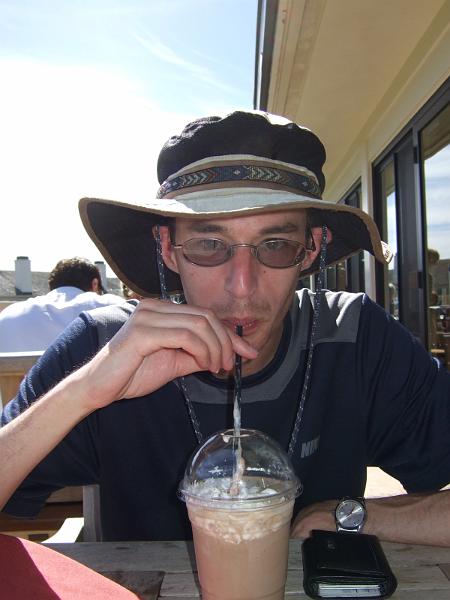 Now properly hydrated and full, we exited Pebble Beach and returned to Highway 1 southbound. Aside from the scenic drive along the coast with a few photo stops, we headed to Julia Pfeiffer Burns State Park. The main attraction there is a waterfall that is right off of the ocean. It's only a short hike to it and is neat to see. We wander around the park a little bit, but need to head back north to clean up in time for dinner in Carmel.
After an evening in Carmel, we returned there on Sunday. Our first stop is another California Mission, the Mission San Carlos Borromeo de Carmelo. Like most of the missions, it is mostly rebuilt and not original. Being the non-Jewish Sabbath, there is mass going on so we can't just roam the inside in our t-shirts and transformer pants. We take a quick peak and wander the grounds, courtyard, and exhibits. We return to downtown Carmel and notice on the drive what our guide book had pointed out- there are no addresses in Carmel. The houses just have names and people navigate there by cross street. I suggest that we should start referring to our house in this way, but L' is less than enthusiastic. We wander the galleries and shops of Carmel and get some lunch and snacks for later.
Leaving Carmel we again head south, this time towards Garrapata State Park. It's a short drive and the weather is still sunny. The top of the trail has a view of the ocean. We start hiking and there are minimal signs and no paper maps available. It's a straightforward loop so we just start going. After winding up at a river instead of ascending, we back track and find the unmarked fork in the trail that we had missed earlier. Now we go up, and up, and up and up. It's very steep (20-30% grade, I found out later) and the traction is poor. It's a struggle, but we make it to the top. The view is good, but not worth the effort to get there, in my opinion. It's about an hour past when we had planned to head home, but we finally are back in the car and on our way. We pick up pizza once we get home and are just glad to have had a fun weekend out of town.
View all the photos from the weekend:
http://www.sanjoseabrams.com/photos/MontereyOct2009/index.html