It cost more than a night's hotel stay to fly back on Monday so we stayed a night in Vancouver and returned home on Tuesday. Most hotels were all the same price so we picked what seemed like the nicest of the bunch. When we asked someone in the cruise ship terminal where the hotel was located, they said "you're here- just take the elevator upstairs". We couldn't have done better if we actually tried and it couldn't have been easier.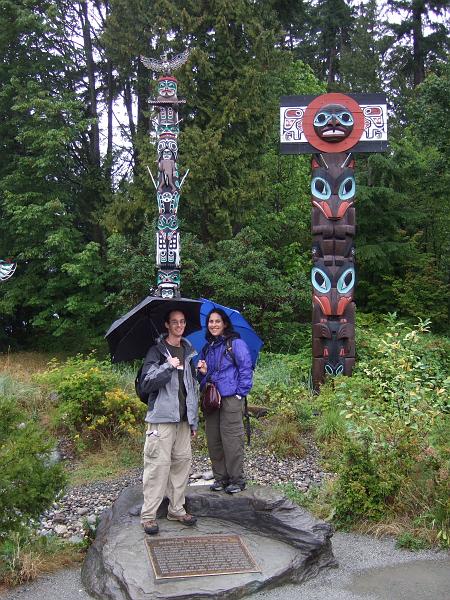 Unfortunately, the weather was not as well planned and it was raining. We left the bags at the hotel and started walking along the waterfront towards Stanley Park. We get to the park and there is a good view of the city. We wait too long for the "every fifteen minutes" shuttle bus and ride it to the totem poles. We take in the poles for a little bit, but it's raining rather nicely at this point.
We're getting hungry and waterlogged so we board the next shuttle and ride it as it loops around the park. We get off at the entrance and start walking back towards the hotel. We aim to walk through a portion of town that the concierge recommended as a shopping area. We find a sushi place. Lunch takes way too long (I know my chicken teriyaki needs to be cooked, but are they out fishing for L"s tuna roll?). We go back to the hotel and get our room. I watch a little tv and nap. L' gets bored after the first hour of my nap and goes exploring. She returns after my 2nd napping hour and my shower.
We get an Italian restaurant recommendation in the gastown area. Food was good and we wander around afterwards. We run into the steam clock which was something I had wanted to see. It was then back to the hotel for final packing. We ran into a few people from our first night on the cruise in the hotel bar and chatted for a bit. Finally, it was off to sleep.
Of course on Tuesday it stopped raining. We had breakfast and went to the airport. Our honeymoon vacation was over and we returned to life in California as a married couple.