With another three day weekend on the calendar, we tried to figure out where we should go. One possibility was to head north to visit some of the parks closer to the Oregon border. There are a bunch up there, but it would be a lot of driving. After the fires broke out around the state, we felt that driving far only to be inside of a mesquite grill wasn't the best idea. Instead, we went much closer to home by visiting Marin, just over the Golden Gate Bridge. It's a pain to see things around there as a day trip, but staying up there was very convenient.
On Friday, July 4th, we went to the Marin County Fair.

The main interest here was to catch a performance of the Preservation Hall Jazz Band. I've missed these guys in New Orleans and when they've been in town. After a lengthy, but quickly moving line to get in the Fair, the PHJB's set was just beginning. They were a lot of fun. An added bonus was one of the guest musicians, who they introduced as a director of a popular movie from last year, The Simpsons. I figured they were joking, but it's true. The director of the Simpsons Movie plays jazz.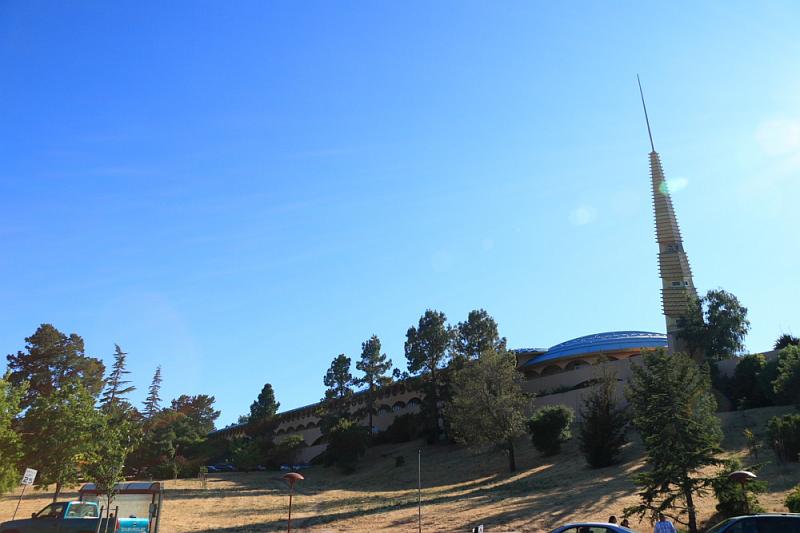 After the PHJB's first set, we wandered around the fair checking out the environmental exhibits and relaxing. We took a brief stroll outside the fairgrounds to get a closer view of the Civic Center, which was designed by Frank Lloyd Wright. Unfortunately, tours are only given during the week, but the building was neat. It's huge and at the top of the hill. I think FLW has a real future ahead of him, except for the fact that he's dead. The remaining part of the day was spent wandering, listening to music, dinner and fireworks. We then walked back to the hotel for some much needed rest.
On Saturday, we took advantage of one of the area's state parks and visited China Camp State Park. Prior to heading out we passed a NY Deli next to the hotel and I spotted the big sign that said they had egg creams. Those who know what egg creams are know how yummy they are. Residents of Californa will know that they are an uncommon site in these parts. Naturally, I told L' that we should stop or go there for breakfast the next day. Always thinking ahead, she realized that tomorrow would be Sunday and they might be closed. To avoid that possible tragedy, we stopped after our breakfast. While still good, the egg cream was disappointing and not nearly as good as ones that I have made. Nonetheless, I was now ready for today's hike.
It was a bit hot, but we still did a short hike. We were glad to again see blue sky after the smoky skies we've been having in the Bay Area.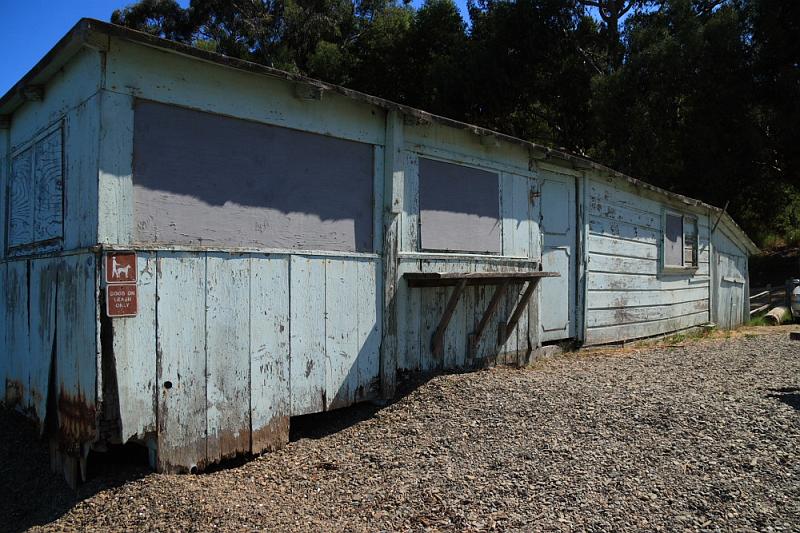 The hike was nothing spectacular but the exercise was good. Our next stop in the park, the old fishing town, was better than the hike. It was run by the Chinese where they caught shrimp that they sent back to China. Today there is even one descendant of the original residents living there. The walk on the water was cooler and a nice wind down. While at the hotel for much needed showers, we consulted Zagat's for dinner recommendations and found a highly rated Italian restaurant in San Anselmo. The dinner was great and the dessert exceptional. I highly recommend visiting Cucina Restaurant.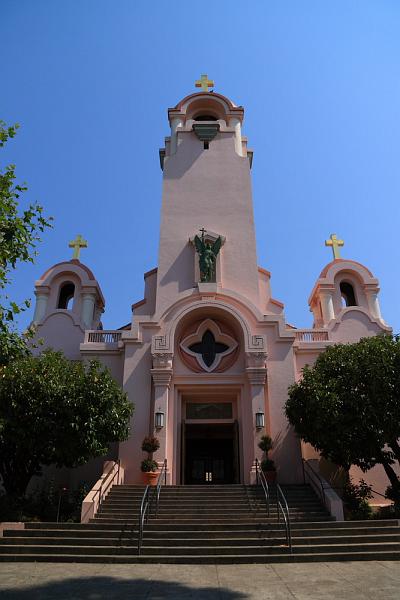 Sunday was another busy day. We had some breakfast in the room (getting our morning requirements of cheerios (for me) and coffee (for L')). Since we were in San Rafael and had visited two California Missions on our previous weekend adventures, we felt obligated to stop at the one here. Mission San Rafael is the second most northern and second to last founded. It's mostly a reconstruction at this point though. Not a whole lot to see, but worth a quck stop. After grabbing a couple gigantic sandwiches for lunch, we headed to Point Reyes. I had been there once before with my parents and this time we did a completely different part of the park. It was a lengthy hike, but not too strenuous at about 7.4 miles (which is a one day record for me). Despite being in a National Seashore, we didn't make it to the coast. It would have been a couple miles down hill and we had just come uphill and did not want to add any more elevation change to our day. We stopped for lunch at our highest point and then took a stroll back down to the car.
To break up the drive home, we made a brief photo-op stop along the coast for some views of the beautiful California coast. I even managed to stay awake for most of the car ride as L' perfectly handled the windy road. We made it home for another much needed set of showers. Lacking food in the house, I suggested we get some pizza. Instead of ordering in, we went to a AAA recommended pizza place in San Carlos. As my local friends know, I'm the keeper of the Pizza Power Poll and I let Speederia Pizza take a challenge at the undefeated champion, Giovanni's. This is the best challenge to date. To not bias the local jury pool, I won't unveil my winner, but I let's just say I impressed L' by finishing off my half of the pie. We then went back home for an egg cream and food comas. Another long weekend was in the record books and it was back to work on Monday.
View all the photos from the weekend:
http://www.sanjoseabrams.com/photos/MarinJuly2008/index.php