Thu 11 Jul 2013
Looking for a somewhat more relaxing vacation than we usually have, we decided to go to Waikiki for a week.   I had not been to Hawaii in the summer in a long time, so it was nice not having to worry as much about rain.  This was L"s first trip, but there is enough to do that the only repeat for me was Pearl Harbor.  This was actually a good thing because the visitor center at Pearl Harbor was built after I was there and is now greatly improved.  I highly recommend it.   It was very informative.  It even had movies recorded by the Japanese which was certainly something I had not seen.   Having never really studied much about the Pacific Theater of World War II, I found it really interesting.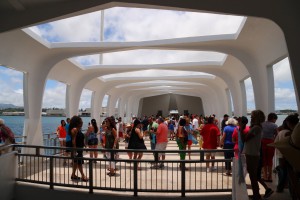 We spent most of the day at Pearl Harbor touring the visitor center and  USS Arizona Memorial first.  In addition to those, we toured the USS Bowfin and Submarine Museum.  Having toured the USS Midway last summer, we didn't feel the need to stop at the USS Missouri.    While it would be neat to see where the Japanese surrendered ending the war, we didn't really have time nor the interest to tour another military ship.
View the photos of Pearl Harbor:
http://sanjoseabrams.com/photos/OahuJuly2013/Pearl%20Harbor/index.html
Next Post:
Diamond Head
»
Previous Post: «
Carmel
2 Responses to "Pearl Harbor"
Frank Says:
July 23rd, 2013 at 3:00 pm

USS Missouri is not an air craft carrier, but an impressing battleship. The view from there to the Arizona Memorial is worth the visit.
The guide said the Missouri is "guarding" the tomb of the Arizona.
An interesting observation is that while Pearl Harbor and the Arizona Memorial were filled with Japanese tourists i did not see any Japanese on the Missouri.
Have a great trip on Hawaii

Matthew Says:
July 23rd, 2013 at 5:07 pm

You are correct that the Missouri is not an aircraft carrier. Thanks for the correction.
Leave a Reply